Asian Massage Bristol
Healthy Therapy, the best Asian & Oriental massage therapies available in Bristol. Discreet, private, premises in College Green. Secure, private parking is available.
We provide various massage treatments, including, Chinese deep tissue massage, Thai massage, relaxing sensual oils massage, Swedish massage & hot stone massage. Our young but attentive & professional therapists will help you to re-balance and become re-energised.
An amazing experience, relaxing every inch of your body, is assured.
The history of massage therapy dates back thousands of years to ancient cultures that believed in it's medical benefits. The first written records of massage can be found in China and Egypt. The first known Chinese text is called "The Yellow Emperor's Classic Book of Internal Medicine." In book form, this was first published in English language in 1949 and has become a staple in massage therapy training. It is also often used as a textbook for teaching many other forms of alternative medicine such as acupuncture, acupressure and herbology. Egyptian tomb paintings show that massage therapy was a part of their medical tradition. Egyptians get the credit for pioneering reflexology. Their studies and traditions are believed to have greatly influenced the Greeks and Romans. The first known written massage therapy traditions came from India, but may have actually originated around 3000 BCE or earlier. Hindus used the art of healing touch in the practice of Ayurvedic medicine. Ayurveda, a Sanskrit word, translates to "life health" or "life science." It is regarded as the basis of holistic medicine, combining meditation, relaxation and aromatherapy.
It was from this early massage therapy history that the Swedish doctor, gymnast and educator Per Henril Ling developed a method of movement known as the "Swedish Movement System." This is regarded as the foundation for Swedish massage most commonly used in the West today. Although the system was developed by Ling, it was actually a Dutchman, Johan Georg Mezger, who defined the basic hand strokes of Swedish massage. Today the most common types of massage practiced in the western hemisphere are Swedish massage and Japanese Shiatsu.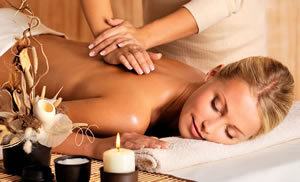 Considering it's long history, massage within Western medicine is certainly in its infancy. The potential for growth and research of the healing properties of therapeutic massage has gained great momentum over the last fifty years, and the public demand for massage therapy is at an all-time high. As a preventative practice, therapeutic massage is used in spas, gyms and work places all over the country. Using massage therapy to promote balance and maintain internal and external health is something that is now a standard part of the North American lifestyle. In the health care industry, massage is commonly used in hospitals, nursing homes and birthing centers. It is also used in physical therapy and in chiropractic clinics to treat pain, increase circulation and expedite the healing of injured muscles.
Our prices start at only £30 with an hour of deep tissue massage just £50.
Fresh towels & hot shower facilities always available.
Male and female customers equally welcomed. This is a Non-sexual service.
Our Opening Times: 7 DAYS A WEEK 09:30am - 9.00pm
Please call 07598-448676.
Booking is highly advisable.